As part of a renovation to the Toyota Sports Center in California, the Stanley Cup Champion Los Angeles Kings have installed Black Iron Strength® dumbbells and attachments made with CuVerro® antimicrobial copper surfaces in their strength and training facility.
It is important to be aware of all potential health hazards that exist within facilities in which professional, collegiate, and high school athletes use to train and better themselves. With interactions with human hands occurring multiple times a day, one surface area that has been deemed as having potential to become contaminated with bacteria in a sporting facility is gym equipment.
Matt Price, LA Kings head strength and conditioning coach stated, "Our objective is to further minimize the exposure of bacteria in our training spaces and having dumbbells with CuVerro copper handles made huge sense in upgrading our equipment."
The 2012 and 2014 champions of the National Hockey League have helped address possible surface contamination on their equipment by electing to install Black Iron Strength's high quality CuVerro antimicrobial copper surface gym equipment. The equipment installed within the facility included items such as bar and dumb bells as well as machine attachments.
Professional athletes demand the highest performance out of their equipment and that is one reason why the Los Angeles Kings chose to install Black Iron Strength equipment.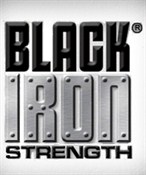 *Laboratory testing shows that, when cleaned regularly, antimicrobial copper surfaces kill greater than 99.9% of the following bacteria within 2 hours of exposure: MRSA, VRE, Staphylococcus aureus, Enterobacter aerogenes, Pseudomonas aeruginosa, and E. coli O157:H7. Antimicrobial copper surfaces are a supplement to and not a substitute for standard infection control practices and have been shown to reduce microbial contamination, but do not necessarily prevent cross contamination or infections; users must continue to follow all current infection control practices.